The middle of October is when football season really becomes "real" to me.  I had that first "holy shit its cold!" moment just a few days ago and ran back upstairs and threw on a jacket.  It didn't help that I had just gotten back from getting engaged in Mexico a day or two before that, and fifty degrees felt like five.  This meant one of a few things, I'm getting old and the cold has a bigger effect on me now, or football season just passed the quarter pole and things are starting to get interesting.  Week Six showed us that the contenders are just that.  The pretenders may be headed in that direction, certain teams are progressing, and others are regressing.  Oh, and this whole "Suck for Luck" campaign sounds like some sorority house's whorish nickname for some fund raiser they "thought up".  So without further ado, I present the great readers of Voodoo Brown with my inaugural Power Rankings.
1)  Green Bay Packers (6-0) – Aaron Rodgers is looking like a man possessed.  I wonder if he let Mila Kunis wear his "belt" after the Super Bowl last year.  If he wins it again, maybe he can get Natalie Portman and her both to have dinner with him.
2) New England Patriots (5-1) –Tom Brady didn't have his best stuff for the first 57:31 against the Cowgirls, but did anyone expect anything different than a fist pump that would make even the Situation jealous yesterday?  I didn't.
3) Baltimore Ravens (4-1) – Baltimore is a team that is getting lost in the Green Bay, Detroit, New England shuffle.  Ray Rice owners are on a witch hunt for Ricky Williams as they were for Willis McGahee last season.
4) San Diego Chargers (4-1) – Did anyone picture Norv's boys being 4-1 during their bye week?  A very weak AFC West, a favorable schedule, and two out of the three starting quarterbacks in the division no longer there, San Diego could very well end up 13-3.   Keep an eye on them.
5) San Francisco 49'ers (5-1) – This may be a bit high for the Handshakin Harbaugh, but they earned it. San Francisco went on the road in back to back weeks and beat two very formidable teams. Alex Smith is still a VERY big question mark in my eyes. I am not a buyer of him yet.
6) Pittsburgh Steelers (4-2) – This Pittsburgh team is hit or miss, they better be ready to hit come October 30th.  TB12 and his boys come to town, and I'm sure they remember last season's drubbing.
7) Detroit Lions (5-1) – Jim Schwartz is a punk.  Plain and simple.  Watch the footage of him yelling to the 49'er sideline yesterday after the unsportsmanlike conduct penalty.  I wish Harbaugh double legged him right there on the field.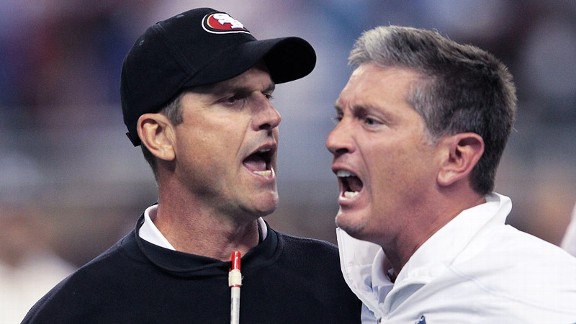 8) Tampa Bay Buccaneers (4-2) – When they lost Mr.Blount , I didn't think they'd pose much of a threat to the Saints, even at home.  The Bucs will be there at the end, challenging for the division.
9) New Orleans Saints (4-2) – I watched some of this game yesterday.  I paid close attention to Drew Brees and his reads and progressions were to his new bromance partner, Jimmy Graham.  You have some speedsters in Colston and Meechem, send them on the go route and let them go get it!
10) New York Giants (4-2) – Eli Manning almost gave that game away again yesterday.  Justin Tuck and Brandon Jacobs both need to get healthy, and fast.  Ahmad Bradshaw can't endure that type of contact all season.  Also, Corey Webster is a marquee corner in this league.  I didn't get to watch him play in detail until yesterday.  Very impressed.
11) Buffalo Bills (4-2) – Are the Bills a Top 10 team in the NFL?  I say no.  And I stick to my guns saying they are an eight or nine win team.  Print it!
12) Oakland Raiders (4-2) – Jason Campbell going down means this team may be following him in the power rankings in upcoming weeks.  Darren McFadden can only do so much.   See AP in Minnesota for reference.
13) Washington Redskins (3-2) – The original Sexy Rexy became the Wrecks we all know and love.  Philadelphia's defense looked like the 85 Bears picking on this guy.  John Beck will not win you a division, especially with the Giants right there with you.
14) Tennessee Titans (3-2) – Chris Johnson bitched and moaned all off season for his contract. Show us the money Chris, ownership showed it to you, now it's your turn.  Losing Kenny Britt was a LOT bigger deal than people are talking about.
15) Chicago Bears (3-3) – Why do people still kick to Devin Hester?  Will Jay Cutler ever show any emotion?  Is there a prop bet for the number of screens Mike Martz calls a game? Matt Forte is an early season MVP candidate.
16) Cincinnati Bengals (4-2) – Andy Dalton is making his move for Rookie of the Year.  AJ Green has been a stud as well.  I'm mostly surprised with the defense playing tough against both the run and the pass.
17) Atlanta Falcons (3-3) – Injuries have depleted this offensive line to the point where Matt Ryan could get decapitated at some point this year.  Roddy White must be injured because his production is way down.  It doesn't get any easier this week heading to Ford Field.
18) Houston Texans (3-3) – With the second best receiver named Johnson in the NFL coming back next week, Matt Schaub will start putting up numbers as will most folks number one overall fantasy back.  Losing Mario Williams is crippling to this already leaky defense.
19) New York Jets (3-3) – This team could very well be 2-4 right now, thank Tony Romo for that.  The running game is still struggling and that isn't a good sign.  Can Rex talk his guys up enough to make the playoffs again, I honestly don't think so.
20) Dallas Cowboys (2-3) – Jason Garrett gave that game to the Patriots on Sunday.  You are inside of the five yard line with one of the most dynamic wide receivers in the game.  Strike that.  You have TWO of the best wide outs in the game in man coverage, and you run a shovel pass?
21) Philadelphia Eagles (2-4) – This team is too talented to be down this low.  I firmly believe Philly rallies and makes the playoffs.  Andy Reid has faced adversity before from the media and fans, typically he comes out of it pretty well (that is my don't run me off the website sympathy post of the week)
22) Cleveland Browns (2-4) – Colt McCoy has made great strides this year and learning to become a better decision maker.  If they could find him someone to throw the ball to, they'd be a lot better.  Hillis and his hamstring didn't look too good in the house that Al built.
23) Seattle Seahawks (2-3) – I don't think I'd ever see the day where I'd rank a Tavaris Jackson quarterbacked team ahead of Donovan McNabb one!  It's highly unlikely these guys challenge the Niners, even in the weakest division in football.
24) Kansas City Chiefs (2-3) – Did a Cornhole locker room game really turn this team around?  Head to head match ups against the Bolts will define their season.  Both games are must win for Todd Haley's boys.
25) Arizona Cardinals (1-4) – Pittsburgh is coming to town this weekend.  Whatever quarterback, coordinator or coaching controversy there is there has to end.  The player voted meanest player in football is heading to the retractable field on Sunday.  Yes I said retractable field.  Have you ever seen that thing?
26) Carolina Panthers (1-5) – Growing pains for Cam Newton are apparent.  However they have been in almost every game they have lost so far.  This is a development year him and the entire coaching staff.
27) Denver Broncos (1-4) – How ironic Tebow's first start this year is down in the state where it all began for this good ol Jesus boy?  Trading Brandon Lloyd today was puzzling to me.
28) Minnesota Vikings (1-5) – Let Christian Ponder play.  McNabb is a shade of his former self and just doesn't look like he gives a rat's ass.  I feel for the playmakers on this team who just don't have a leader. When I say leader, I am pointing at you coach.
29) Jacksonville Jaguars (1-5) – Jack Del Rio will be gone before Thanksgiving.  They hung close with the Steelers yesterday, but this franchise is in total disarray.  Good thing Garrard got released, he is due to have back surgery.
30) St Louis Rams (0-5) – Sam Bradford has been pummeled this year.  This is largely in part he has nobody to throw to.  Acquiring Brandon Lloyd will help, but the defense is very porous and needs attention.
31) Miami Dolphins (0-5) – Leader in the "Suck for Luck" Sweepstakes.  It seems like yesterday Ronnie Brown and the Pothead/Buddhist were running the Wildcat all over us in Foxboro.  My how the mighty have fallen.
32) Indianapolis Colts (0-6) – Runner up in the "Suck for Luck" Sweepstakes.  I'd love to spend a week following around Jim Irsay.  He is probably the most bat shit crazy out of every owner in the league, and he flaunts it.  Rock on Jim, rock on.
Feedback is always good, so feel free to comment here or email me directly.
Yes I do tweet, so hit me up on my twitter handle at @mikeprocopio.
If you really want to tell me to drink bleach, email me at mike.procopio@gmail.com